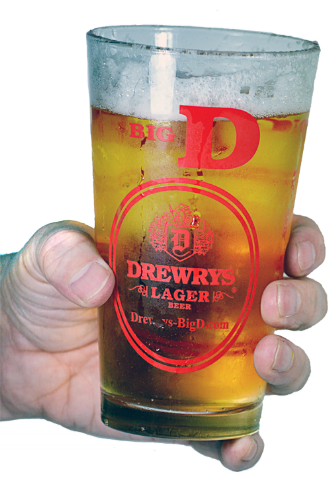 The Big D Is Back!
Drewrys, the American beer with a German accent, is proud to bring lager back to its roots.
Do you love beer commercials as much as we do? Here's your chance to make your own with Drewrys' new Video Contest!
Drewrys – Craft Brewed Vintage Beers
What is craft brewed vintage? A new term we've developed to describe our process. Unlike most "vintage" beers currently on the market which are "contract brewed" by big macro breweries (you know who they are), we've decided to brush off our recipes and produce them with quality, midwest ingredients and the care and attention to detail synonymous with the craft brewing process. The results?! Extra delicious vintage beers ready for your enjoyment!

Support Drewrys' comeback:
1. Enjoy an ice cold Drewrys whenever you can, and ask your favorite restaurant, tavern or liquor store to carry it!
Founded in 1877 in Manitoba, Drewrys came to Indiana in 1936 just after the close of Prohibition. Drewrys — the lager of choice throughout the Midwest — dominated the scene until its untimely demise during the "Beer War" of the '70s. Now we're back, and better than ever!
Celebrating a Great Tradition . . .
The return of Drewrys has given a nod to history and former generations, but the new Drewrys reflects the energy of the South Bend renaissance, too, while staying true to the original recipe. Most importantly, the revival lends itself to all occasions when it makes sense to celebrate with Drewrys in the company of good people and quality beer. As the old motto goes, the new Drewrys is "More flavor. Less filling. More fun!"